Welcoming a new baby is one of the most special moments in a family's life. So, it's only natural to want to create a perfect nursery for your little bundle of joy.
But for many people, spending thousands creating a nursery worthy of a home decor magazine just isn't financially achievable, especially since so many nursery items will be outgrown so quickly.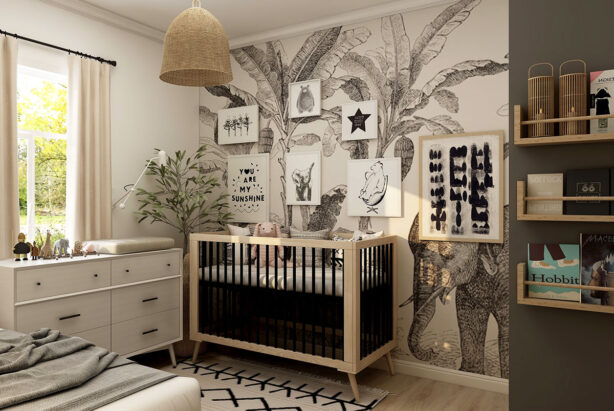 The good news is that you can still create a dreamy nursery for your baby without emptying your wallet. Here are a few tips on how to create a nursery on a budget:
Spend on Essentials First
One of the biggest factors that can cause overspending when designing a nursery is not having a set budget beforehand. It's a bad idea to just jump online or head to the store and start making purchases.
Sit down and work out how much money you can realistically afford to spend on creating the nursery.
Once you know how much cash you have available, you can start to allocate it for specific items.
Make sure to start with the essentials. A safe and sturdy crib or bassinet is a must, for example, but a change table generally isn't.
Once you've chosen all of the essential items needed in the nursery, you can spend any extra money on decorations and accessories to make the space special.
Remember, buying non-essential items first means running the risk of exhausting your set budget early on, and then spending more than you had planned.
Choose Wisely with Second-Hand Items
Buying second-hand items can be a great way to save, but make sure to buy with care when shopping for a baby!
Ideally, try to only buy second-hand items if they're ones that can be washed or sterilized. Toys, clothing, recently-made furniture, and crib bedding are all great choices when shopping second-hand.
But items like crib mattresses, baby walkers, or older furniture may not meet current safety standards, and should likely be avoided.
Make sure to always check for a manufacturer's date on larger items, if possible, and research any recalls for products you're considering.
With a bit of care to ensure you're shopping safely, second-hand purchases can save you a fortune when decorating a nursery on a budget.
Try a Little DIY
Whether you're the crafty type or not, think about creating some of the decorations for you new baby by yourself!
You may want to try your hand at adding some unique decor by creating a DIY mobile to hang over your baby's crib.
Or, pick up non-toxic paint and a canvas from your local dollar store, and use your child's hand and footprints to create a unique art design for the nursery walls.
When it comes to decorating and accessorizing, you'll be amazed at how much money you can save with a little creativity!
With a properly planned budget and some forethought, saving money on the perfect nursery is easier than you might expect.
Just remember to always get your essentials purchased first, then use the rest of your money (and any crafting skills you might have), to create a nursery that's a haven for you and your baby.
After all, a relaxing space for both of you will help create sweet dreams for the whole family for years to come!