There's a chill in the air and the leaves are starting to change in many parts of the country. You can almost hear the witches cackling, ghosts wailing and skeleton bones rattling…Halloween is just around the corner!
Because Halloween is only the beginning of the holiday season, it's easy to go overboard on spending – a costume here, a few bags of candy there…it can add up quickly.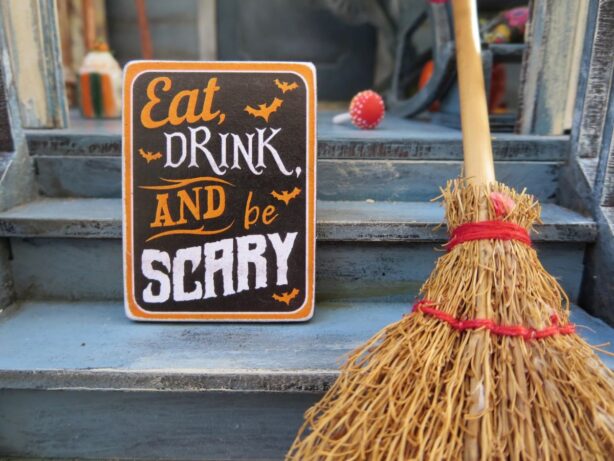 It's important to remember that the holidays really start to ramp up on the heels of Halloween. There is the cost of travelling, hosting guests, large holiday meals, decorating, parties, and gifts that come along with Thanksgiving and Christmas, or Hanukkah.
I certainly don't bring this up to stress you out, but just to remind you to keep a close eye on your holiday budget, starting with Halloween.
Here are a few ways to have a low-cost Halloween without skipping any of the fun!
Save on Costumes
A popular money-saving tip for a low-cost Halloween is to make your own costume. I think this is a great idea but I don't suggest immediately heading to the fabric store.
My talented friends who sew costumes for their children tend to spend more than those who grab something at the local superstore.
Of course, the homemade outfits are often works of art that are lovingly created and last for years in the dress-up box, so if you love to sew, then go for it!
Just don't force yourself to wrestle with fabric and thread because you think it's the cheapest way to go.
For a truly inexpensive costume, head to your closet. You can likely make your own costume using mainly items you already have. Look for inspiration on Pinterest, Etsy and online costume stores, then create your own version at home.
My daughter wants to be a witch this year, and I found some great ideas online. A black shirt, black and white striped leggings, purple boots and a purple tutu she already has will be the base of the costume.
I'll add a witch hat tied with a purple ribbon and some black tulle to the tutu. Just like that, I'll have a great costume for well under $10!
Here are a few other ideas for costumes you can create with items around the house and a few purchased accessories: princess, fairy, cat, cheerleader, rock star, cowgirl/cowboy, super hero, construction worker, fireman, pirate, ninja, vampire, scarecrow, ghost, football player (or other sports star).
Save on Decor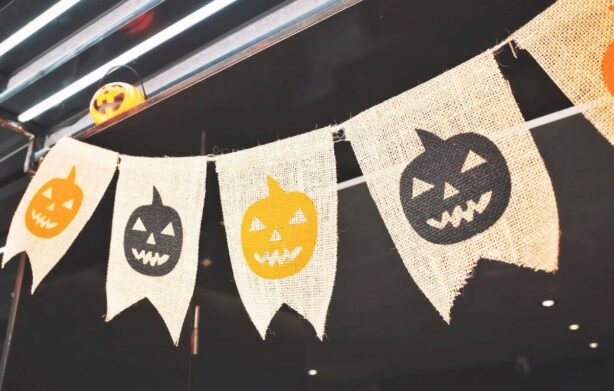 If you love to set a spooky scene in and around your home for Halloween, you can again look to items you already own.
A can of black spray paint can transform everyday objects into something perfectly creepy for this holiday.
They should be things you won't need in their original form again – a coat of black paint isn't easily undone – but think old vases, bowls, candlesticks, wreaths, silk flowers, branches from trees in the yard, or picture frames.
Add some bats cut from black construction paper and some store-bought spider webs, which are very inexpensive and go a long way. You may be amazed at how spooky a few DIY Halloween decorations can be!
For pumpkins to add to your seasonal decorations, choose ones that can be eaten once your low-cost Halloween is over. There are many types of pumpkins that are great to eat but one that is widely available is the sugar pumpkin, or pie pumpkin.
You'll probably want to have them on display for a shorter period of time to ensure they don't rot (though they can be stored in the pantry for up to a month) and then turn them into soup, stew, the classic pumpkin pie or even ravioli or cheesecake.
On another pumpkin-related note, consider skipping the jack-o-lanterns this year. The large pumpkins are pricey and then there's the safety issue of having lit handles inside the carving.
A fun alternative is to decorate mini pumpkins. Raid the craft supplies for paints, sequins, beads, feathers, stickers and anything else you can find for your mini masterpieces.
Save on Trick-or-Treater Treats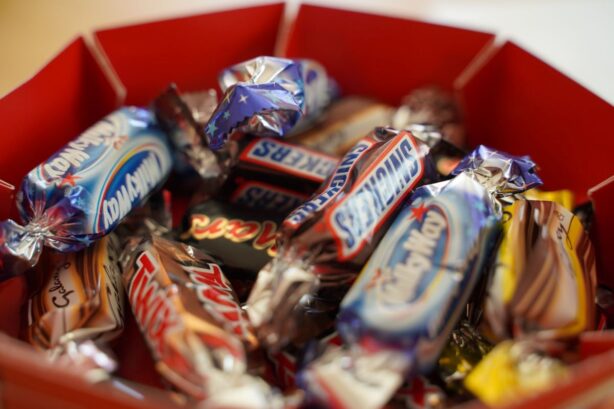 This is an area where I used to splurge. Growing up, I had always wanted to be the "cool house" that gave away full-sized candy bars.
I would stock up at a warehouse store and I loved to see the kids' eyes light up when they got to pick one from the bucket. (To a kid there is nothing that "fun" about "fun-sized" mini treats!)
Now that I am a mom, I realize that kids get WAY too much junk at Halloween, and I have scaled back.
To avoid overspending on treats, particularly if you live in a popular trick-or-treating neighbourhood, shop around for sales and discounted candy, paying attention to the per-piece price. Dollar stores often have good bargains.
Keep costs down by offering one piece of popular chocolate candy and one less expensive item such as a lollipop, bag of pretzels or a low-cost Halloween-themed pencil, plastic spider ring or temporary tattoo. As a parent, I always appreciate the non-candy treats!
If you're in a big city, it's probably best to stay away from making your own treats to save money, or buying candy in bulk and then dividing it into smaller bags.
If you live in a smaller community where the idea might work, just remember to add your phone number to the bags to ensure parental peace of mind!
Avoid the trap of running out for more candy if it looks like you're getting low and there are still a few kids out.
Unless it's very early, chances are the trick-or-treating will have wrapped up by the time you get back, meaning you'll have needlessly spent extra money and have a big stash of tempting candy sitting around the house.
When you run out, simply turn off the front lights of your house – it's the universal sign saying "No candy here!"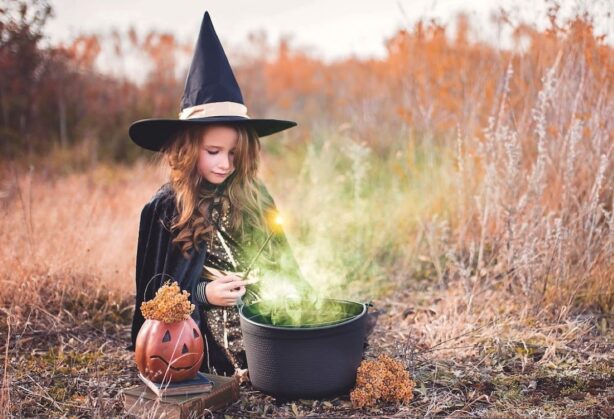 With a little ingenuity, a low-cost Halloween isn't just attainable, it's lots of fun for you and the kids!
Just remember, whether you're celebrating a special event like Halloween, or decorating a nursery on a budget, the most important thing is to set a maximum amount to spend beforehand and then make sure you stick to it.
Happy Halloween, everyone!